So you wanna add a new page to your website, but can't figure out where it should go, or how to get it there? Read on to find out!
When it comes to adding Meetings or Compliance-related content to your Streamline Web site, the options are fairly straight-forward: you add your Meeting in the Meeting tab, and you add your Compliance-related items (budgets, board members, mission statements, etc.) into your Compliance tab.
But what about everything else? Say you want to create an "About Us" style page where you are able to tell the history of your district, provide some fun facts, and maybe include a few photos of your office and/or the region you serve. You can easily create such a page via the Content tab on your website:
Navigate to the Content tab

Click the big Add New button

Click Save and Close when finished. Once saved, your page will show up in the Content area just like this one: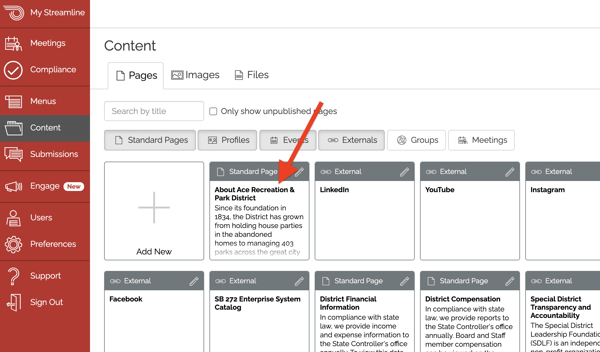 However, just because you have the Page saved in your Content library doesn't mean it's easily discoverable by your site visitors; for any non-Meeting or non-Compliance related page, you will also have to decide where to feature your content!
This is not as daunting as it sounds. Any new page you add to your Web site can basically only be featured in one of two simple ways:
You can link to the page in your Menu (click to skip to that section)

Or...
You can link to the page as a Teaser on any other page, including your home page (click to skip to that section)
Linking to your page through the Menu
Your menu is one of the easiest ways to make a new page easily discoverable by your site visitors. It's great for featuring important, critical content on your site that isn't likely to change often.
Click on the Menu tab to see your navigation menu in "edit mode" - here, you can easily add new links (called "menu items") as well as drag and drop menu items to reorganize them. The left-most indented items are the items that appear on the top-level of your menu. Items grouped under them on the menu will appear indented just to the right.
To add your new page to your Menu, first locate the general area you want the page to appear as a menu item. For an "About Us" page, I've decided to organize this under "Home" on the menu, so I just need to click on the + icon to the right of the Home menu item to create a new one:
Then, let's give our new menu item a name (we'll just call it About Us), and then link the menu item to our new page: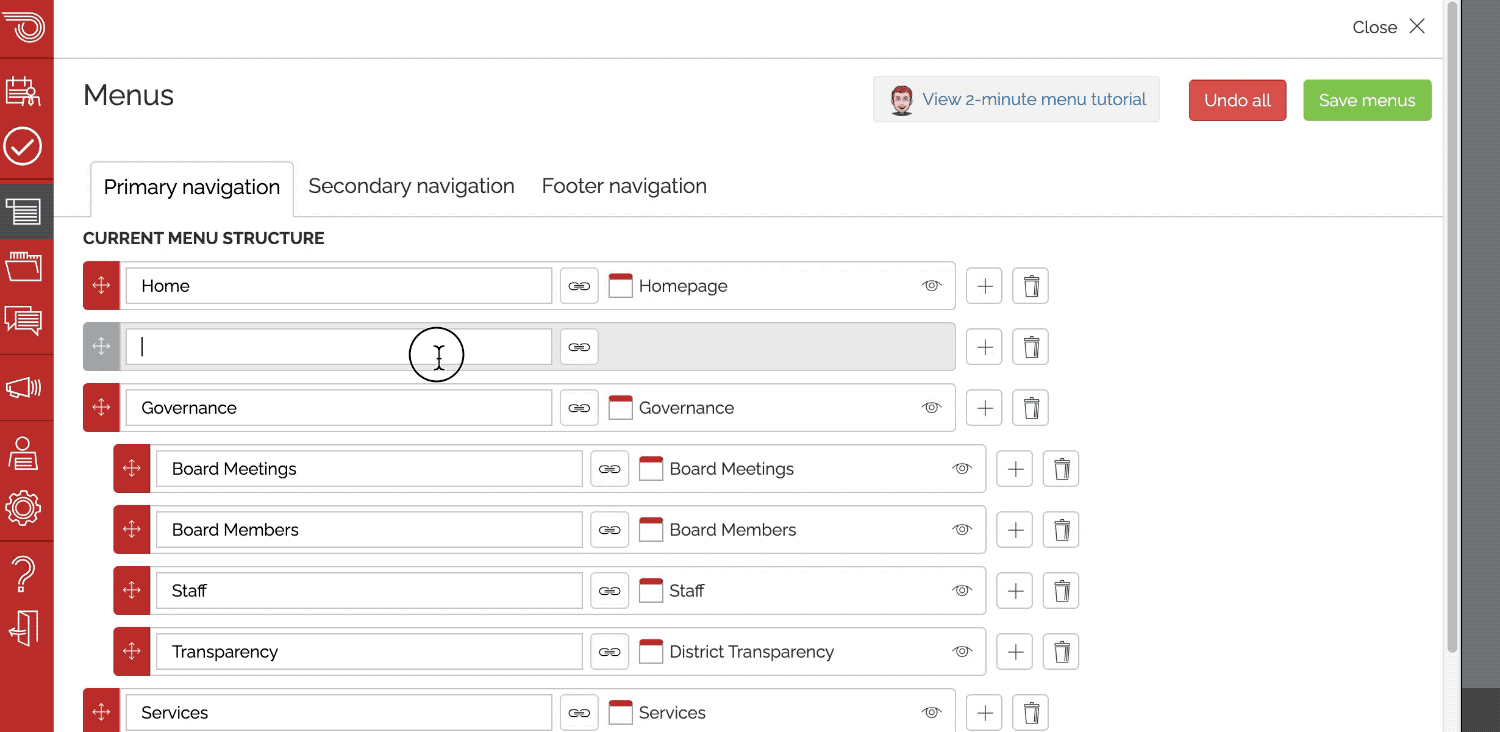 To group the About Us page under Home, we need only to click and drag it just to the right like so, before saving your changes: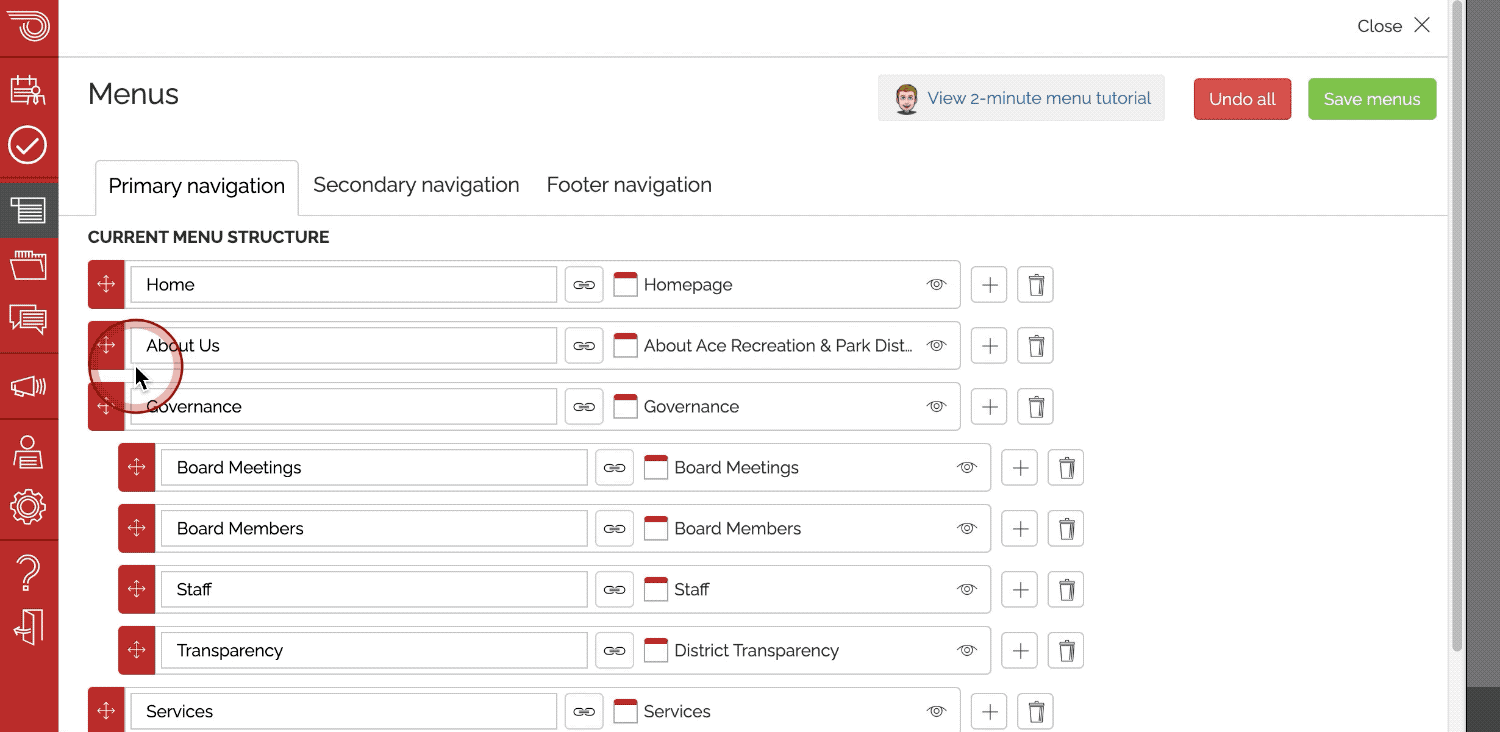 Now, you will see this page appear visible in your Menu!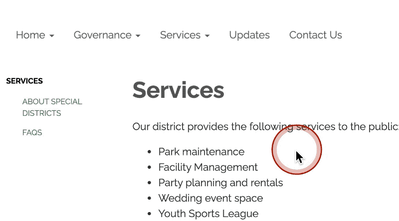 And when you visit the page, you will see the "breadcrumb trail" on the left hand side, which is a clear indicator your Page has been successfully featured on your site: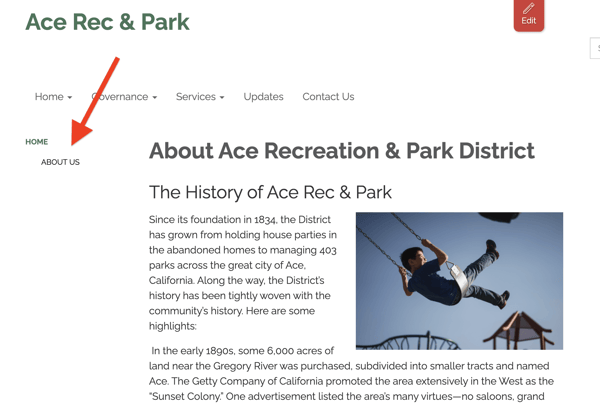 Linking to your page as a Teaser
Featuring your new page as a Teaser means you can add a link to that page anywhere on your Web site. That's all a Teaser is: a link to one of your Pages that you can customize the appearance of. They're a great way to showcase new and updated content, as well as link together related content.
Let's say we wanted to feature our new About Us page on our Services page; folks interested in the services we provide may be interested in learning more about the district, and linking the two pages together can make that discovery process more natural for your site visitors.
To do this, we would navigate to the Services page just like any normal visitor to the website, and while logged in, click on the Edit button at the top of the page and scroll down past the Main Body Content area: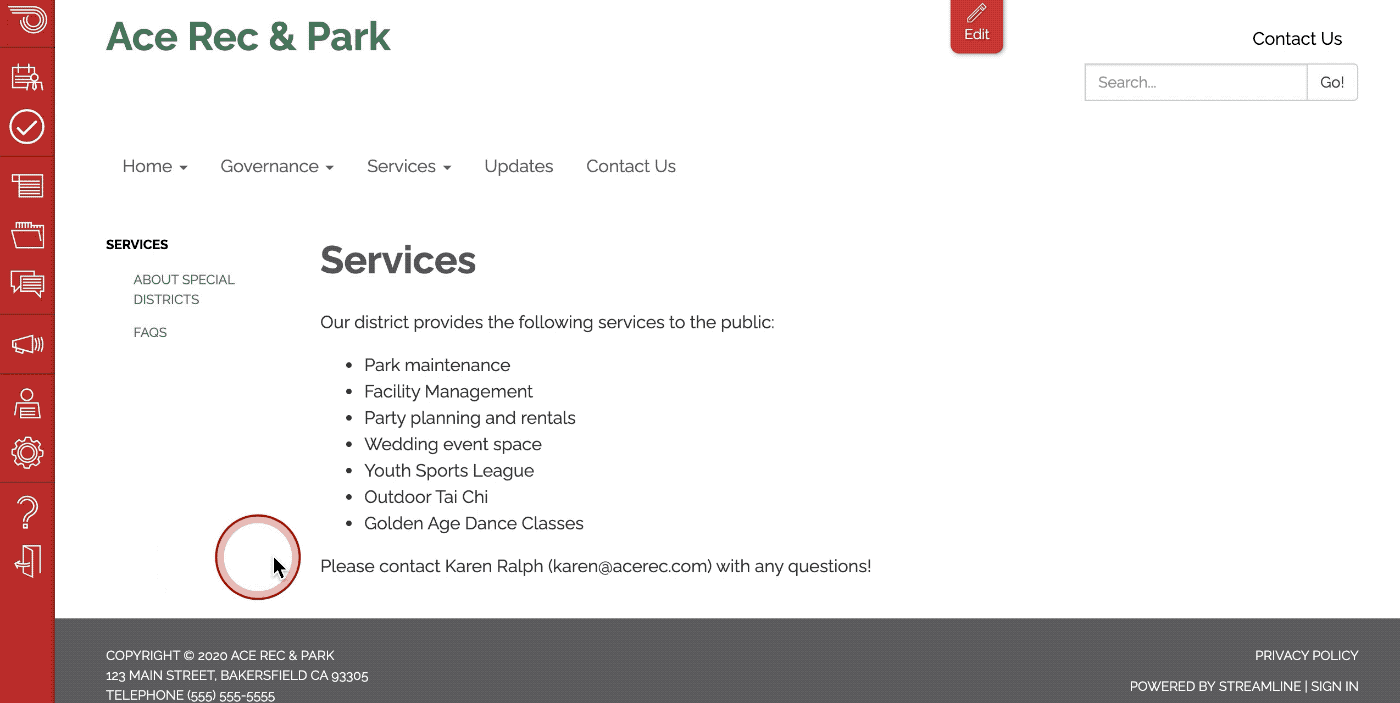 Clicking on the name of either zone will expand it to show you the teasers that are already there. We'll add this teaser to our About Us page in the sidebar by clicking the Add new button, and then choosing the About Us page from our Content library: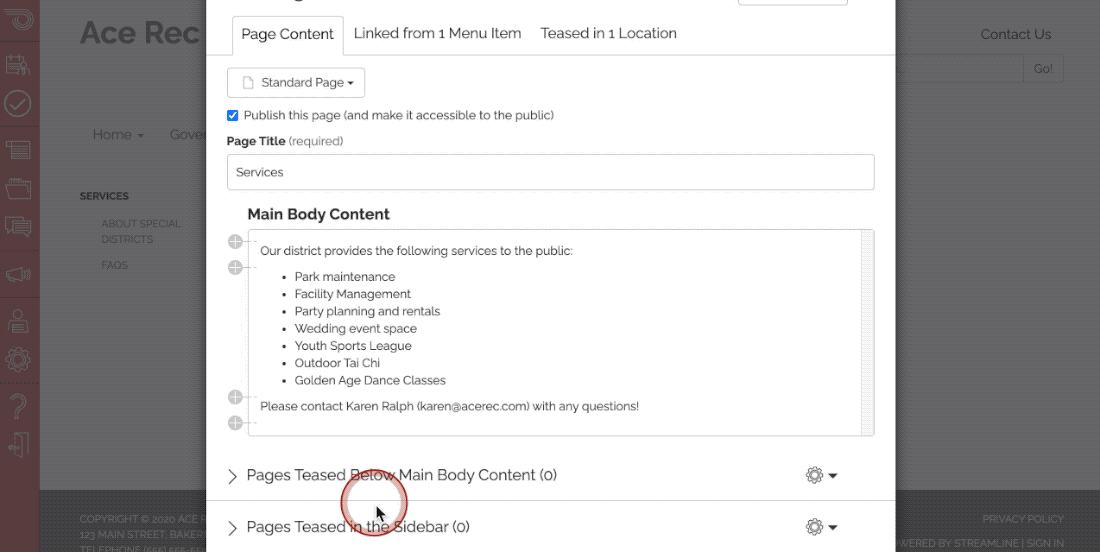 Once the Teaser has been added, go ahead and save the page by scrolling up and clicking the green Save and close. You will then see the About Us page as a teaser in the sidebar from the public view of this page: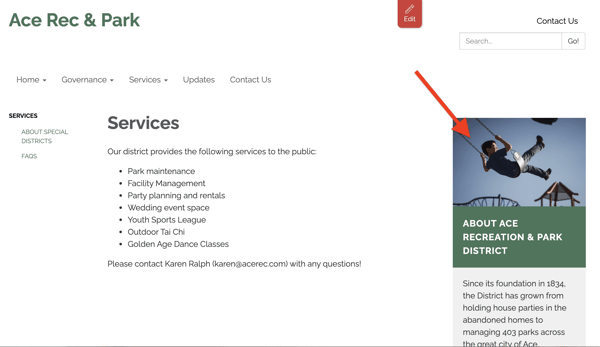 This covers the basics of how to add a Teaser to another page, but there's a lot more you can do with Teasers: