Your homepage is an important place to let the public know about how you serve them and the benefits you bring to your community. Here's how to keep it updated!
The key to understanding how to update your homepage is to understand that it is designed to link to other pages on your site. It's not a place necessarily designed to show information ad hoc or that isn't found somewhere else on the site already. So, anything you want to show up on your homepage, needs to have its own page first.
Any Page on your site can be featured on your site using Teasers. These are links that can be added to specific zones on your site that simplify the process of linking pages together.
Your homepage has three Teaser zones: the Carousel, the Quicklinks, and "below main content" zone: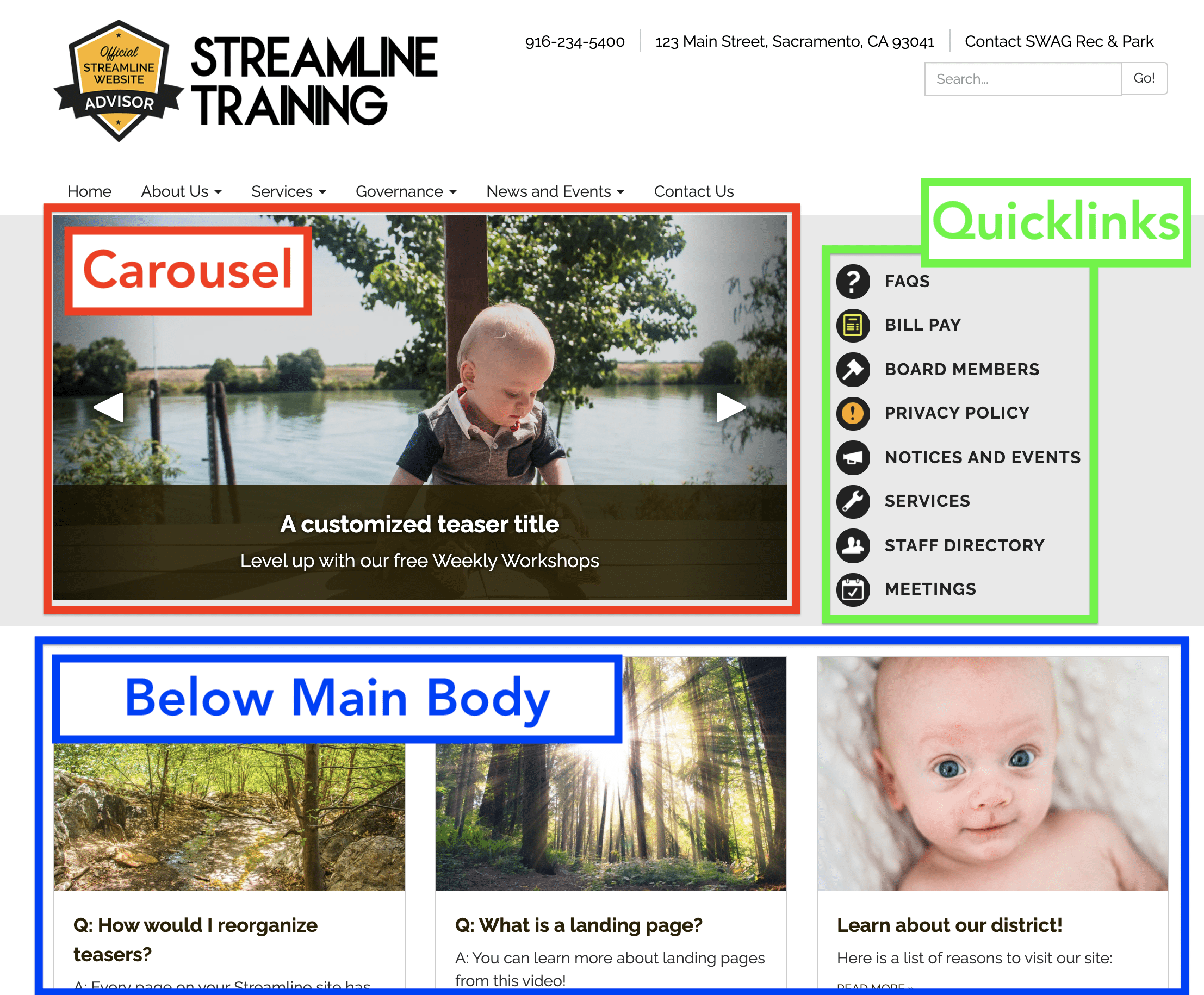 If you edit the homepage (click Edit at the top of the page) you'll see each of these zones represented like so: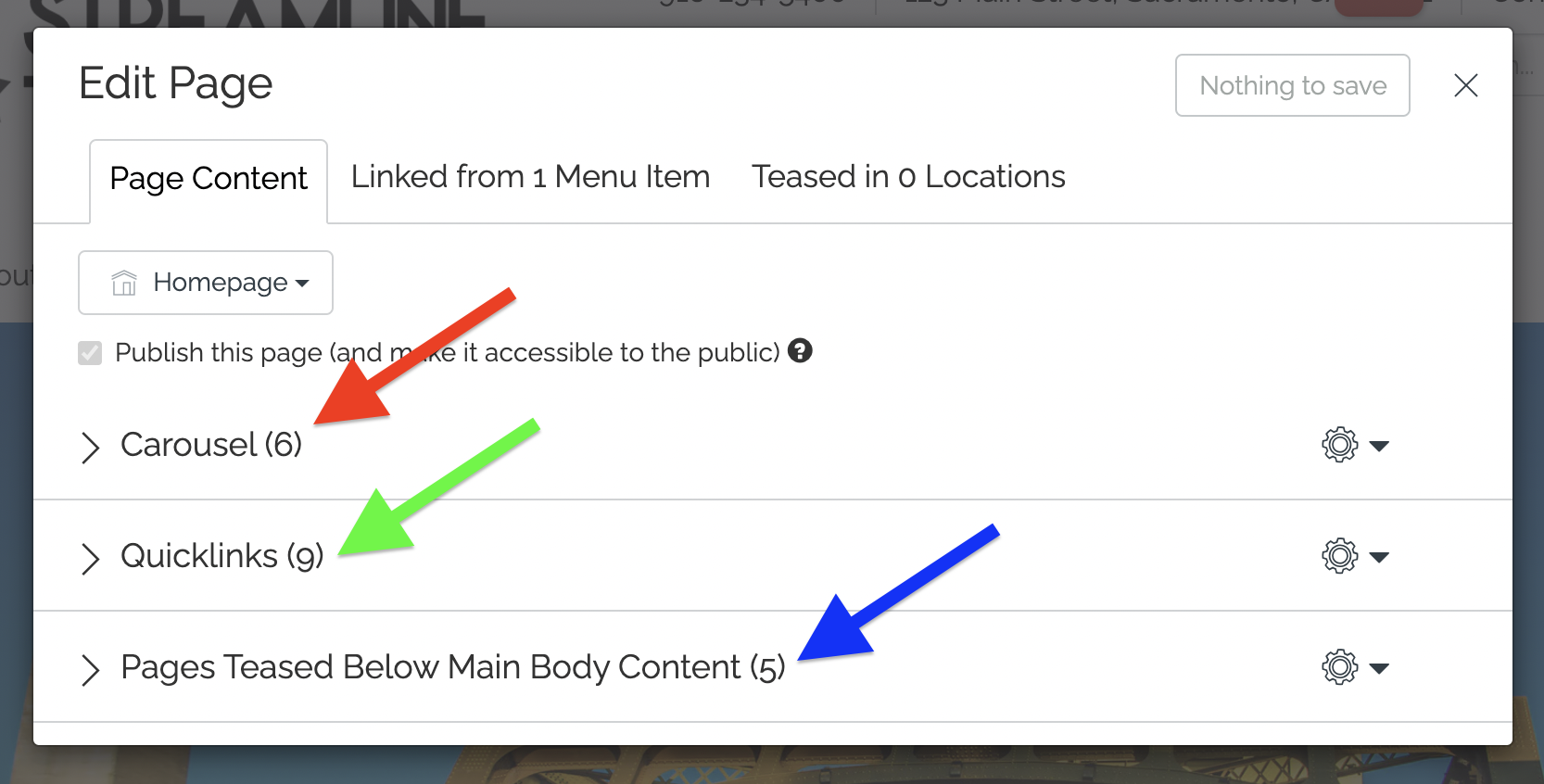 Click on the name of any of the sections to expand them. You will see a list of the existing teasers in that zone:

To add a new teaser, click "Add New" and you'll see a list of pages on your site. Click on one to add a teaser to that page.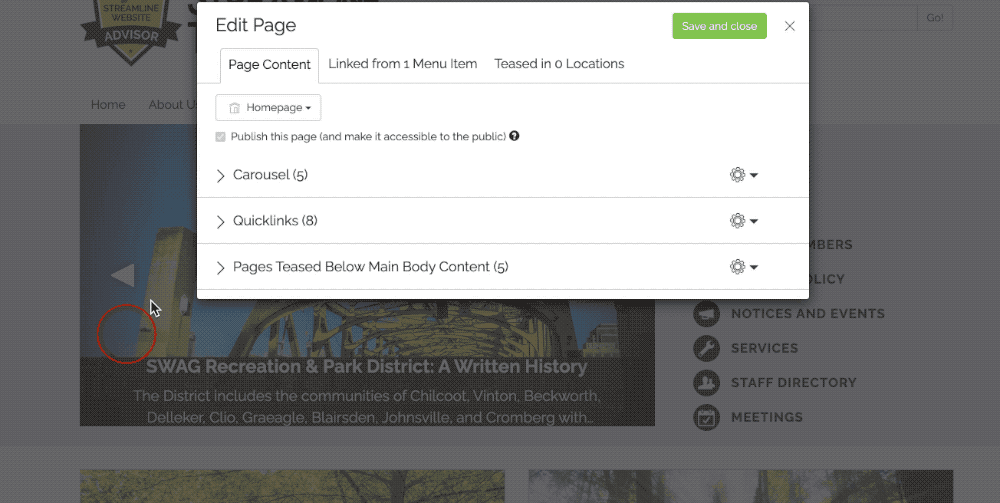 Save and close your homepage and you'll see the Teaser appear in the zone where you added it.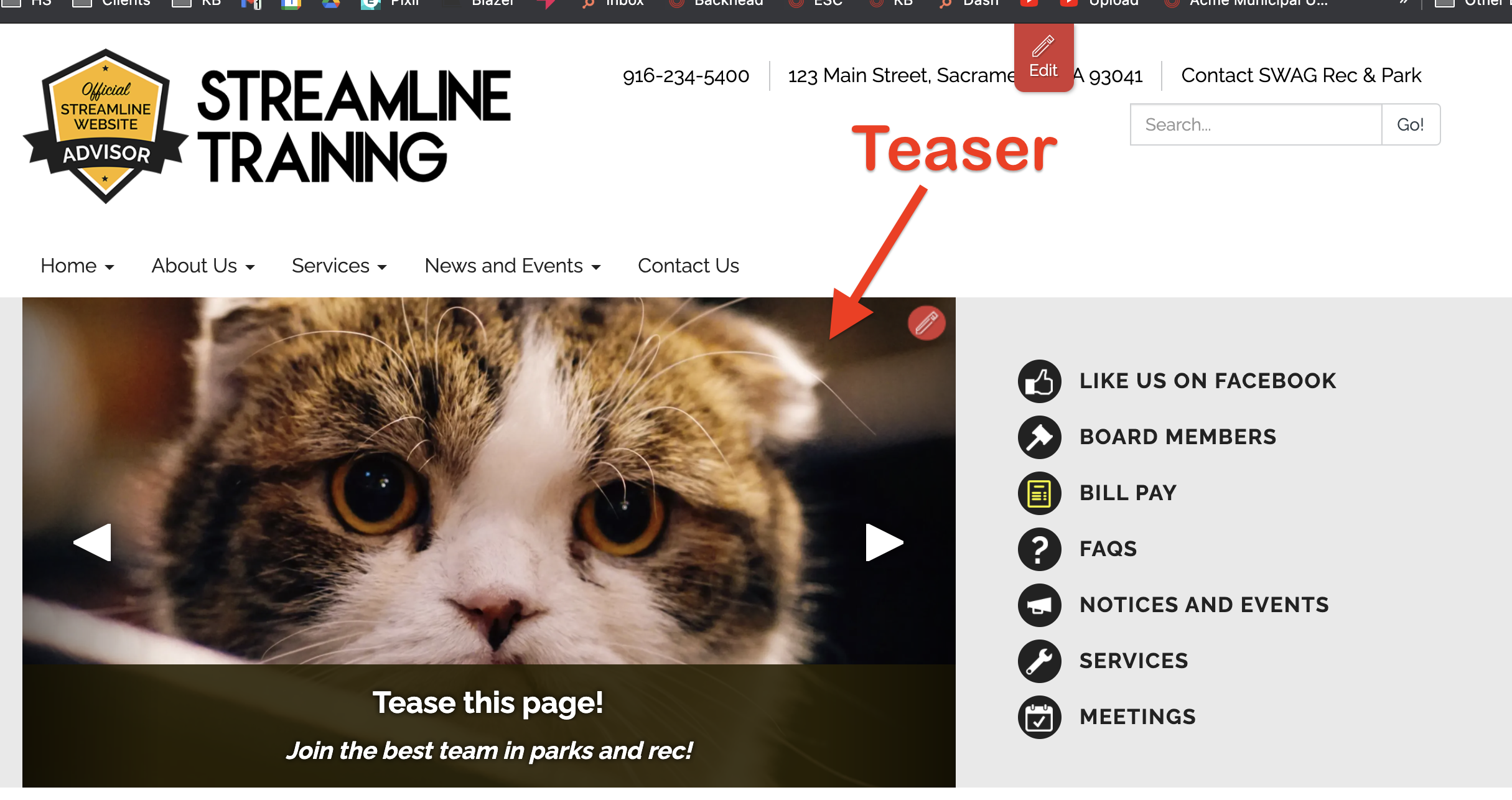 Once the teaser has been added you can leave it as-is, or you can customize it further!
To customize any Teaser, expand the zone where your Teaser is located, and click the pencil icon

on the Teaser you want to customize: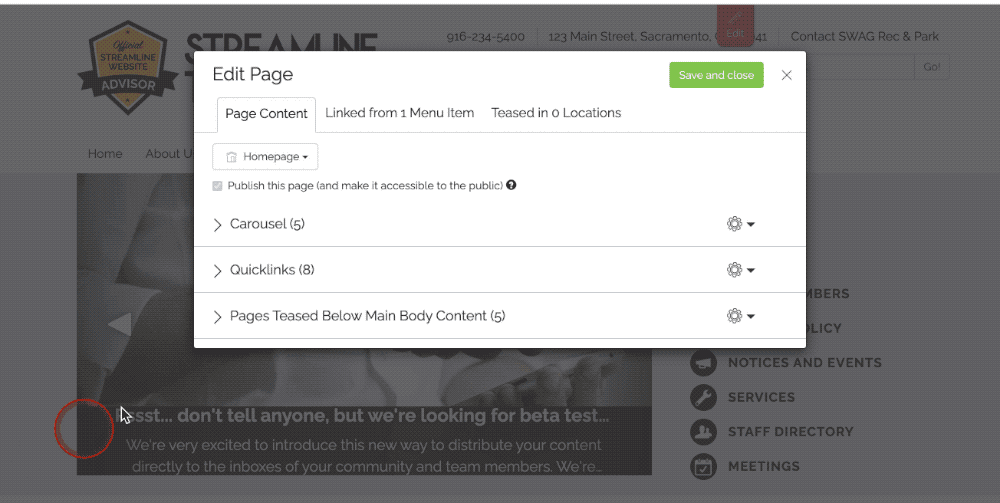 You can customize any of the four parts of a Teaser: (1) the Image, (2) the Title, (3) the Summary, and (4) the Call to Action. Click on the customize link next to the part you wish to customize: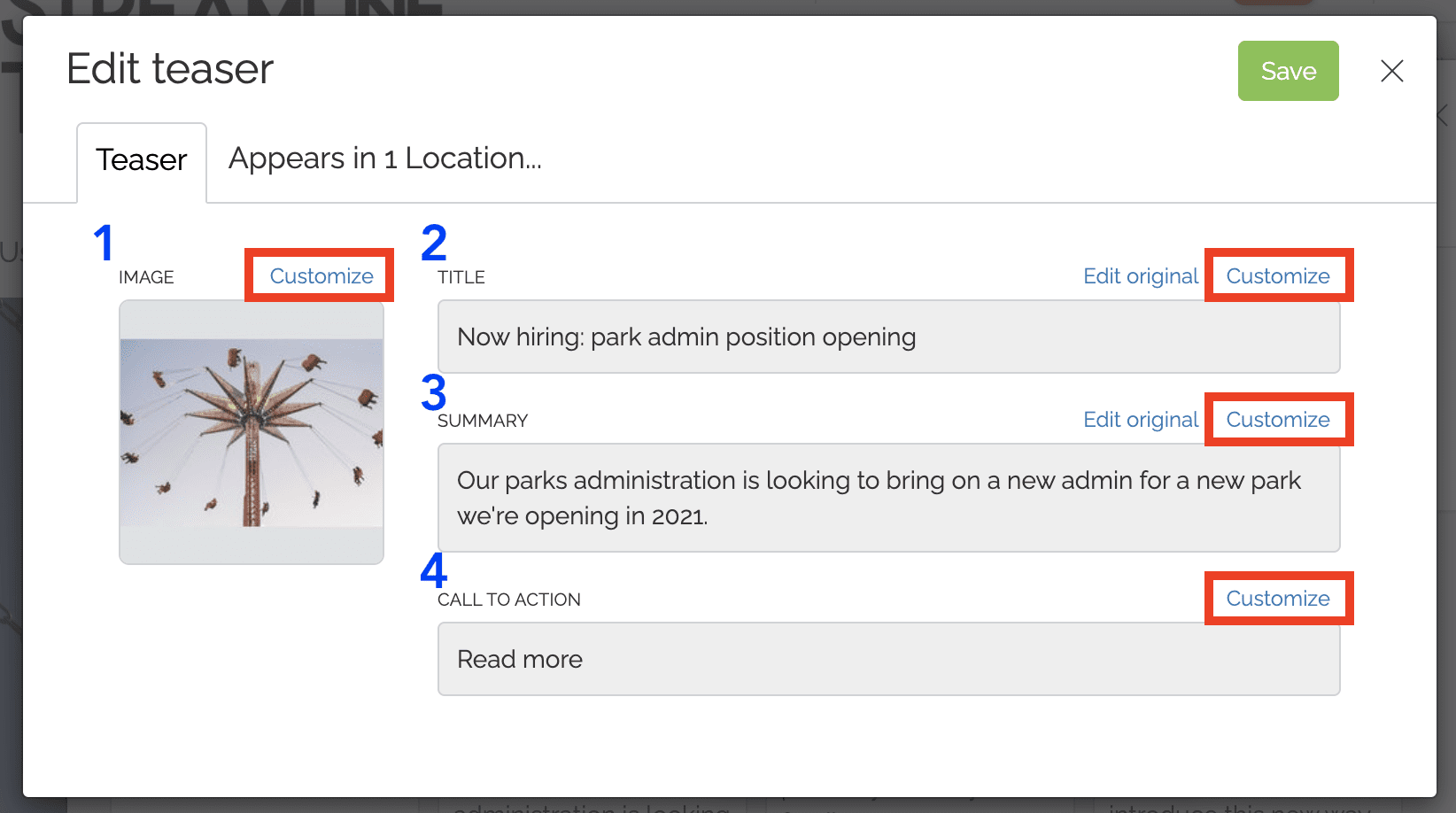 Note: Not all parts of a Teaser will display in every type of teaser zone!
Go ahead and click on the Customize link for the Image on this Teaser, which will bring up your Image library. Either select or upload a new image to your Image library to add that image to your Teaser. Be sure to save this edit, as well as the page itself where the Teaser is displayed, to fully save your changes!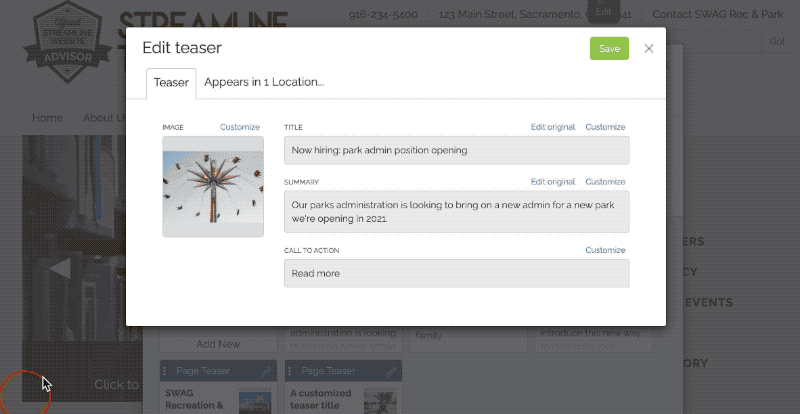 Want to learn more about Teasers?