Create date-specific content using Event pages and feature them on a sitewide calendar
Overview
With the exception of meetings, which have their own special type of page, Event pages are the go-to type whenever the content you want to feature is date-oriented. Event pages are designed to make displaying dates, both on the pages and their teasers, easy and intuitive; otherwise, they allow for all of the same powerful functionality that Standard pages feature, including text formatting, elements, and teasers.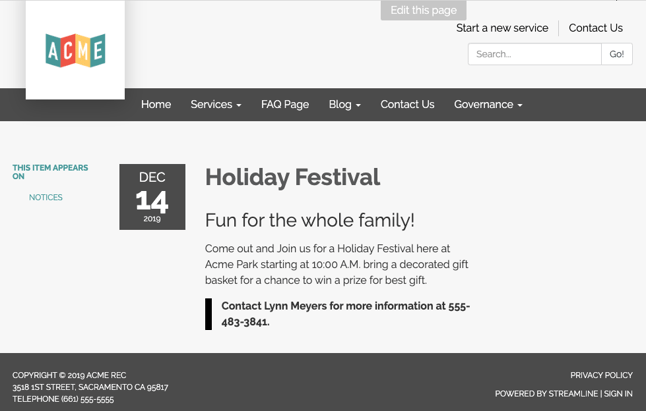 The public view of a standard Event page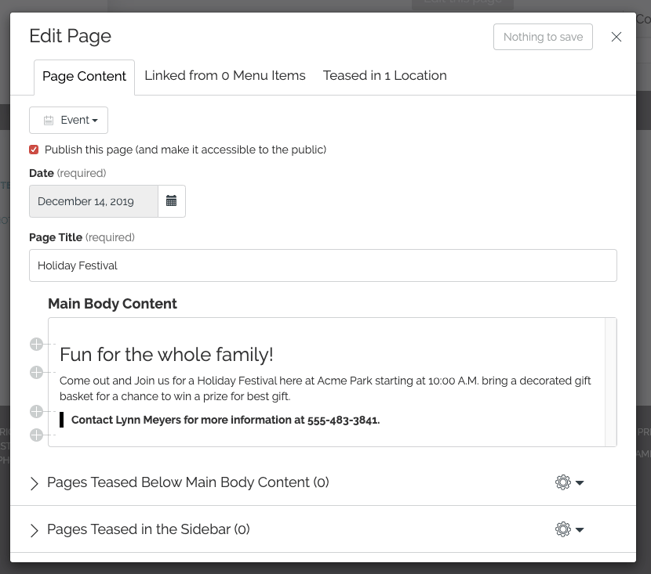 The edit view of the same Event page
Purpose
Event pages are designed to prominently feature the date and title of the page, so they have a number of common uses, including:
classes & workshops
planned maintenance
open houses
holiday events
any parties, celebrations, awards ceremonies, or other community events!
A less common, but equally viable use case for Event pages are blog posts, which you can see an example of here >
Add an Event page to your site
While logged in to your Streamline site, navigate to your Content tab:
Make sure to select the Pages subtab:
Click the large gray +Add New button
Select Event as the type of page from the dropdown menu:
Add a date for the Event and a Page Title.
Add any Main body content as needed, and when finished, click Save and close:
Edit an Event page
While logged in to your Streamline site, navigate to the Event page you want to edit and click on the Edit this page button at the top of your screen:
Make any needed changes to the date, title, body, or teaser zones on the page, and click Save and close when finished:
Add Events to a calendar
Confirm your calendar is set up to display Event pages
Navigate to your Content Library:
Create a new Event page, add the required details, and save the page per the instructions above; your event should automatically show up on your calendar