Never miss a deadline and always stay compliant with the Meetings tab!
The simplest and easiest way to add items like agendas and minutes to your site is to use the Meetings tab. This tab is located in the red admin toolbar you see when logged in: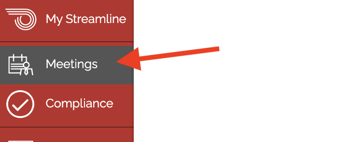 Click on the tab to see that your Meetings are all organized into Groups.
What are Groups?
Groups are pages designed to collect and organize Meetings. Your Group pages represent each committee or group that meets within your district regularly. Thus, you should have a Group for your board, and for each committee you might have.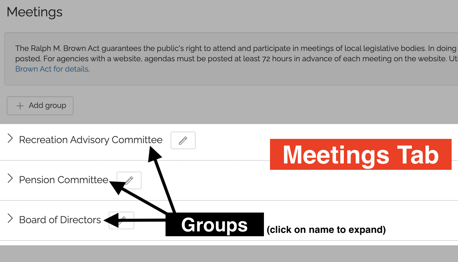 The only time you should create or edit a Group page is if you're creating a new committee for your district. There is no need to edit a Group page each month or create a new one each year.
Click on the name of any Group to expand it, and then you'll see a list of the meeting pages that belong to it. To add a new meeting to that group, click the Add New Meeting button.

See how: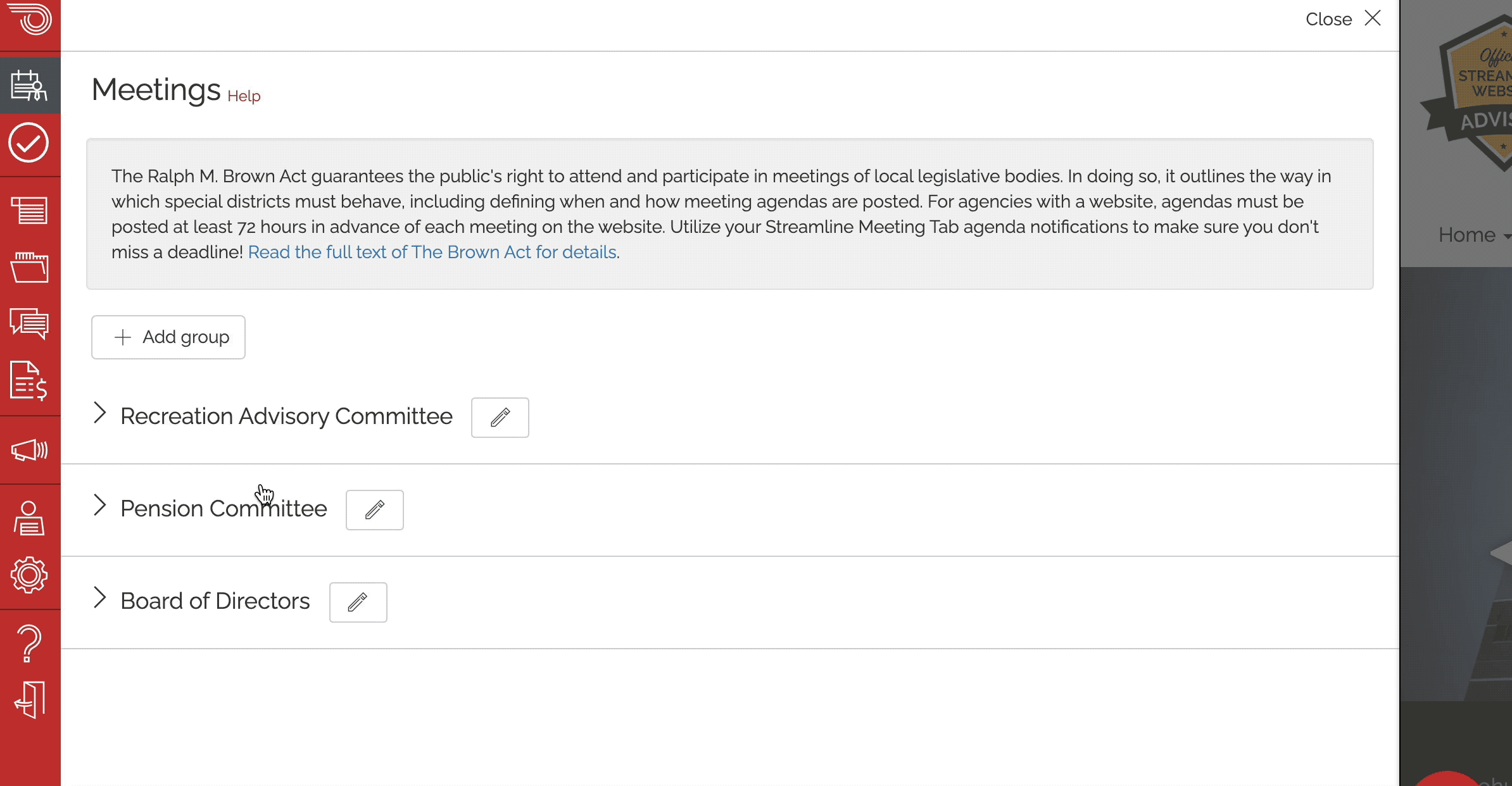 After clicking on the Add New Meeting button, you'll be able to add a Meeting page and upload your agenda or minutes.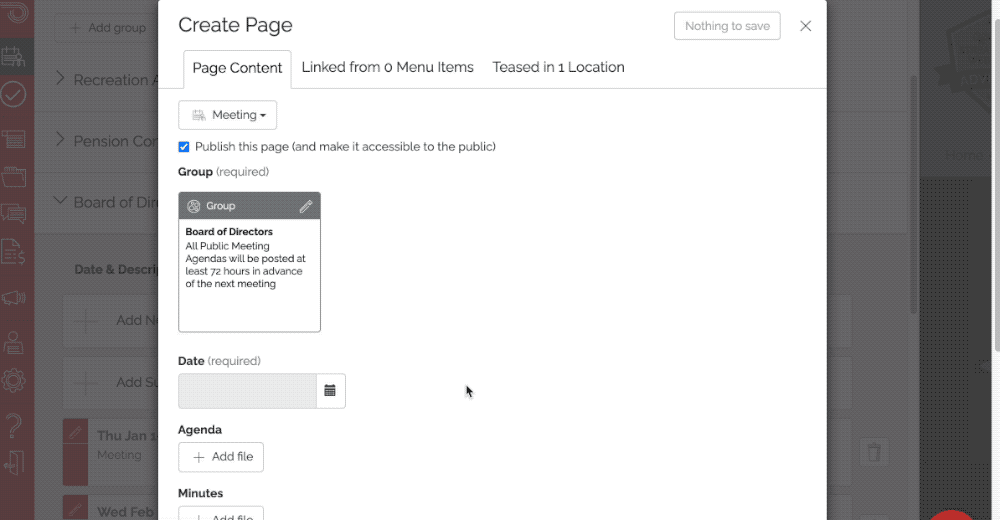 When saved, this page will appear in your list of meetings. But most importantly, it should also be automatically organized on your site for the public to find in a compliant fashion!
How your meetings are organized
Each Streamline site has what is called a "main" Group (to locate or update this, go into your Settings tab). This Group is featured prominently on the home page and will display the next three upcoming meetings for the main group (usually, your board).
For other meetings, there will be a section on the home page labeled "Meetings" that will feature the next three upcoming meetings for all other Groups. Otherwise, these Group pages need to be organized and displayed on your site like any other page - they are not automatically featured on the site like the main group is.
Understanding meeting and agenda deadlines
Most states have a requirement for special districts to post notices of their meetings and agendas ahead of the meeting dates. The specific number of days ahead of the meeting that these items need to be posted varies by state; in California, for example, meetings need to be posted online 7 days prior to the actual meeting date, and agendas need to be posted online 3 days prior to the actual meeting date.
Using the Meetings tab to stay compliant with your agendas
As you add new meetings to your meetings tab, you won't help but notice the helpful due dates and colorful icons that begin to appear: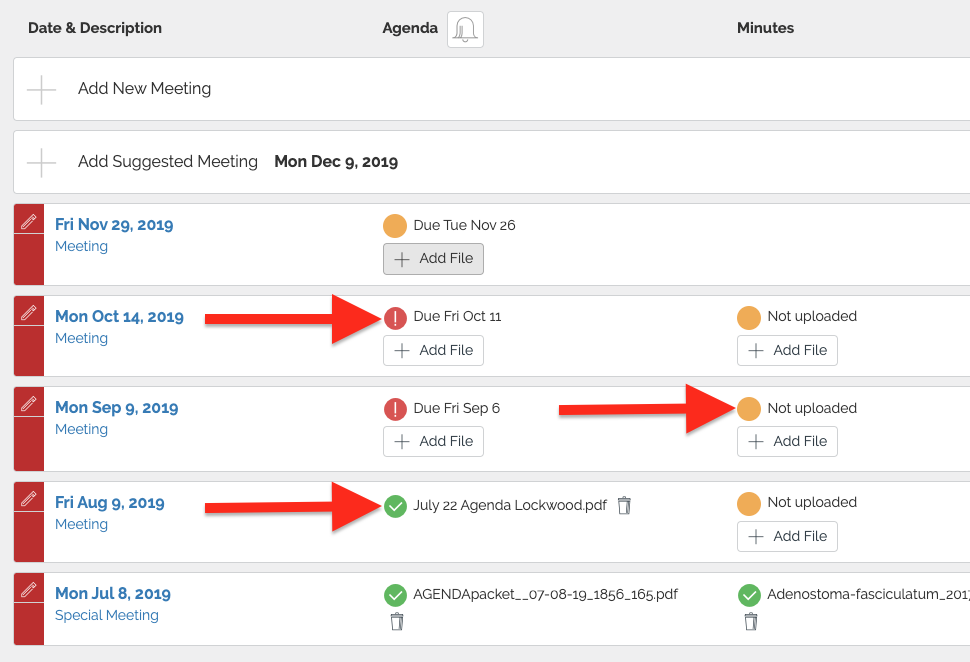 Overdue!

Not turned in

Complete!
Using these indicators, you can quickly see which documents haven't been turned in yet, but aren't due, as indicated by the orange circles

; documents that haven't been turned in yet, but are past due, are indicated by red exclamation points

; and documents that have been successfully uploaded are indicated by green checkmarks

.
Setting reminders
Since agendas are generally the only required item to turn in, Streamline offers reminders to help you turn them in on time -- using the agenda reminder available via the Meetings tab: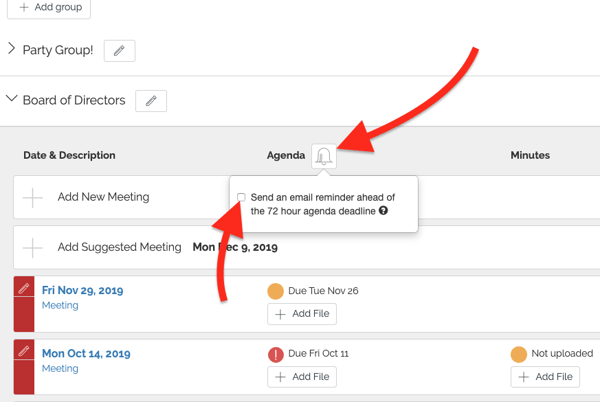 Once you click the agenda reminder "bell" and then check the box to enable the reminder (shown above), you can choose how long prior to the deadline you'd like the reminder to be sent: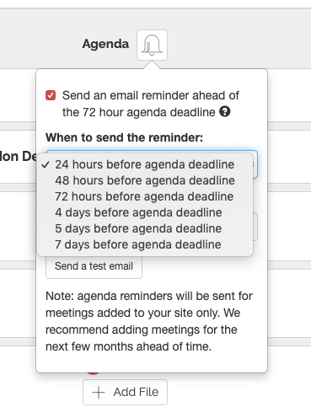 You can also add one or more email addresses to this reminder, separated by commas; this is helpful to make sure, in case the primary meeting creator is out sick or on vacation, that other people can receive these reminders as well: