So you wanna update your homepage by swapping out some images or updating some of the text that appears? Read on to find out how!
Whether you're starting with a brand new site, or if you simply want to refresh your existing site's look, understanding how to update the content on your home page is an essential skill of any Streamline site master. To do that, however, you need to first understand that your home page is essentially just a bunch of links to other pages. These links are called "teasers" in the Streamline platform.
Introduction
For the uninitiated, teasers are a Streamline-specific way of linking to other pages on your site. A teaser is fundamentally just a link to a page on your site, but one that will preview some of the elements of the page it's linking to (thus, it "teases" or entices you to click on it by giving you a taste of what the linked page contains).
For example, if you had an About Us page on your site, you could tease (or link to) a Job Opportunities page for anyone interested in applying: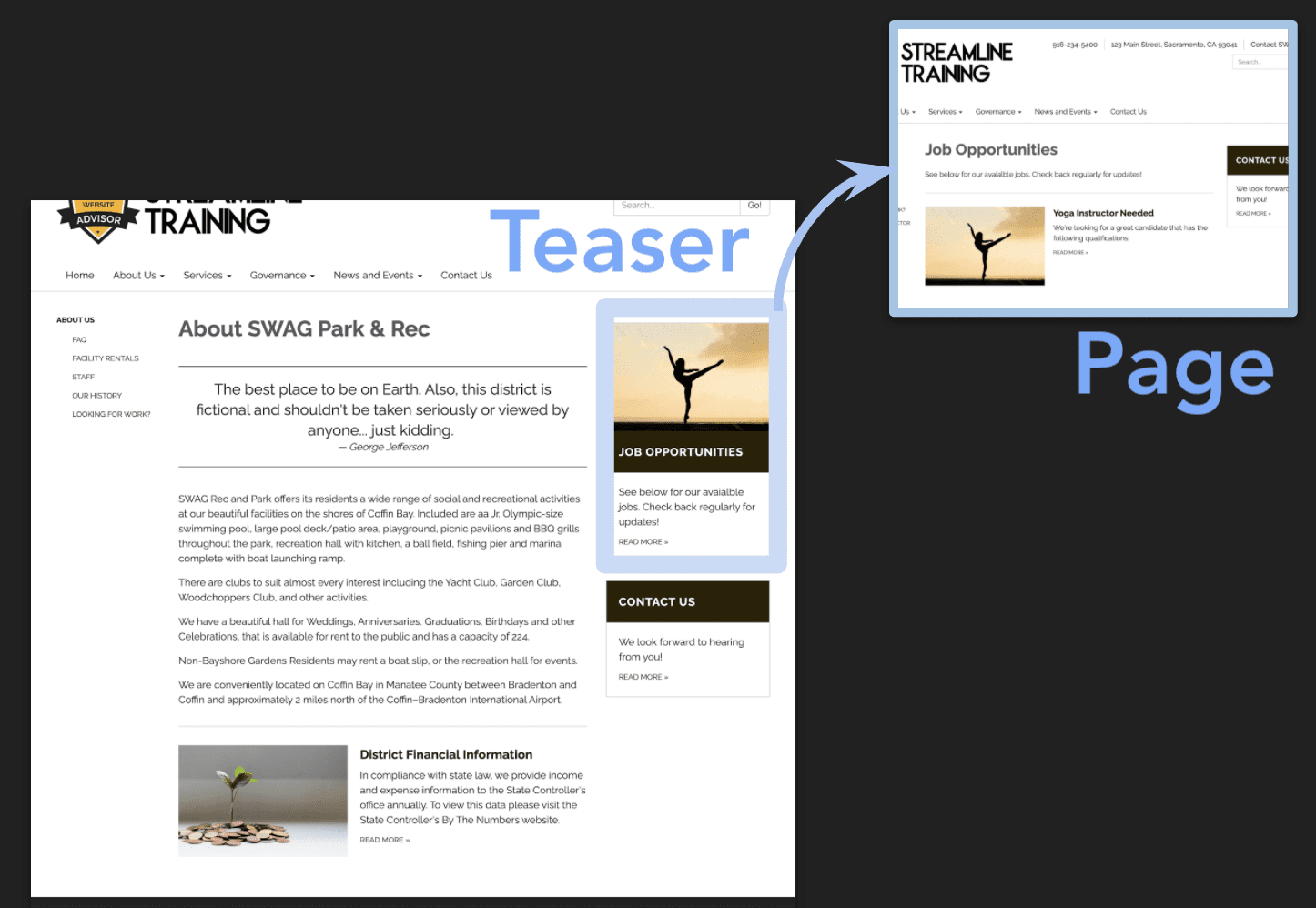 Every page on your site has multiple teaser zones where one or more teasers can be added, allowing you to group items together into folder-like "landing pages". Teasers will vary in appearance depending on the zone they are put in.
It's worth mentioning that your home page is the exception to the rule! The home page actually has three (3) teaser zones: the Carousel, the Quicklinks bar, and the "Below Main Body" zone.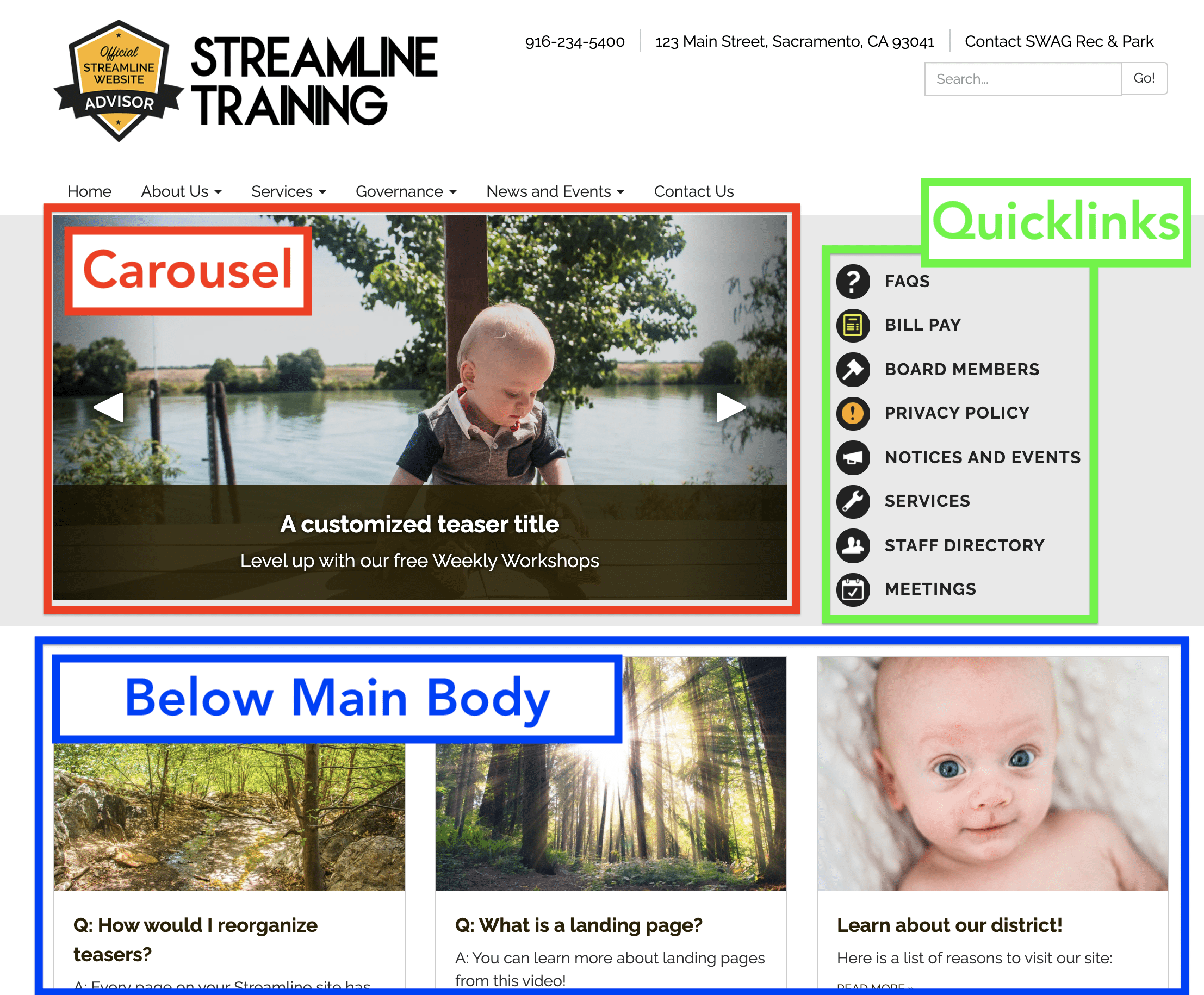 While each zone works the same with respect to how you add, customize and remove teasers, each zone will display your teasers in a different way (read on to find out how!)
See how: adding/editing images in a teaser zone
First, let's examine how to add and customize any teaser to change the image displayed. To start, go to the page where the teaser exists (in this case, go to your site's home page) and click on the Edit button at the top of your screen: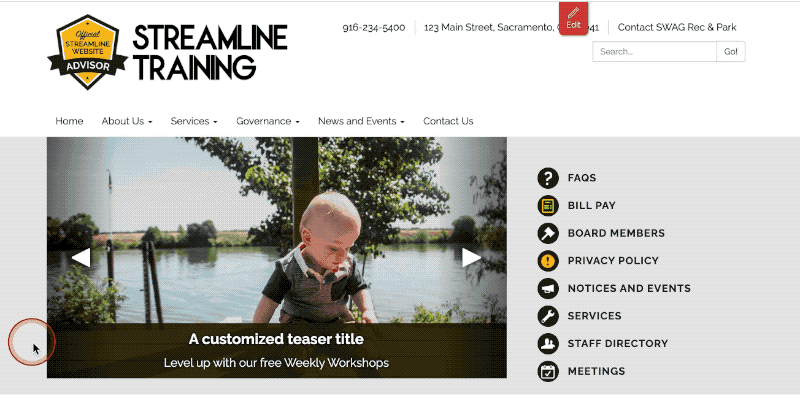 If you want to add a new teaser to a page already on your site, expand the zone where you want to add the teaser and click Add New + to choose the page you want to tease from your Page library: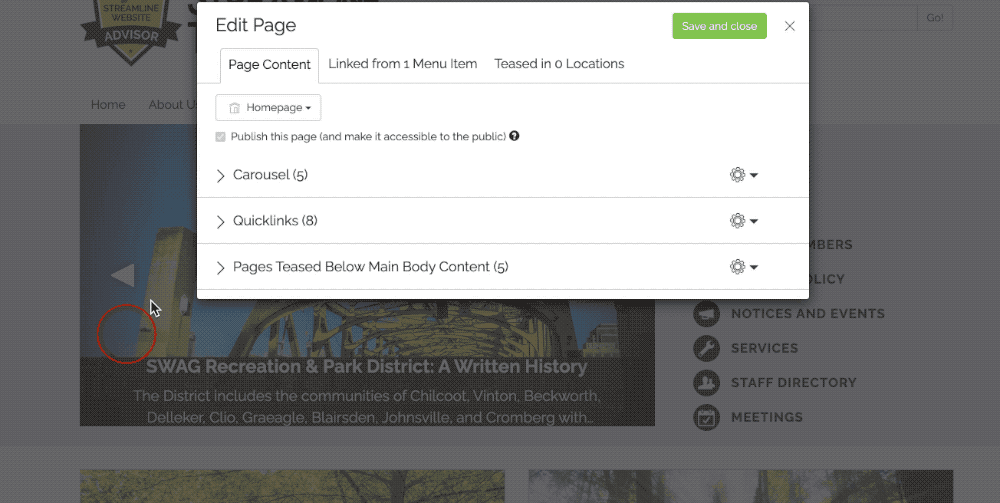 Once the teaser has been added you can leave it as-is or customize it further.
To customize any teaser, expand the zone where your teaser is located, and click the pencil icon

on the teaser you want to customize: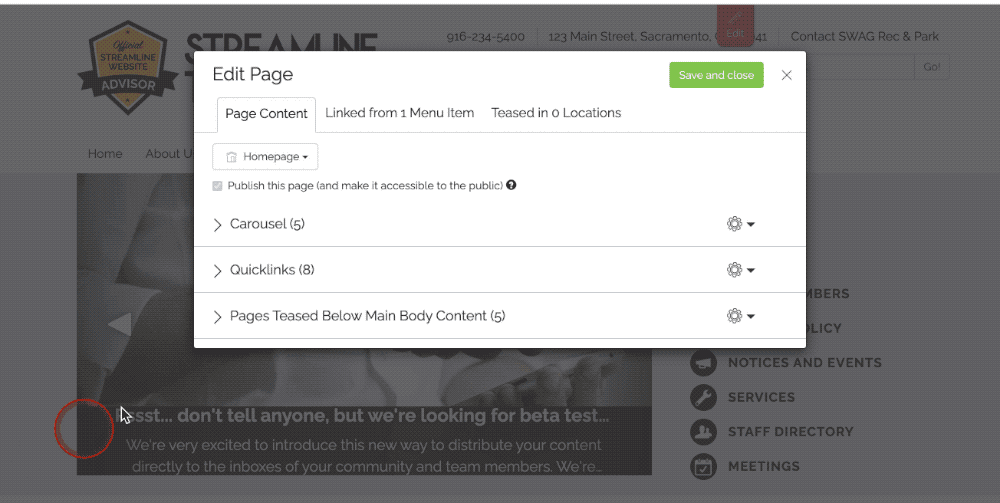 You can customize any of the four parts of a teaser: (1) the Image, (2) the Title, (3) the Summary, and (4) the Call to Action. Click on the customize link next to the part of the teaser you wish to customize: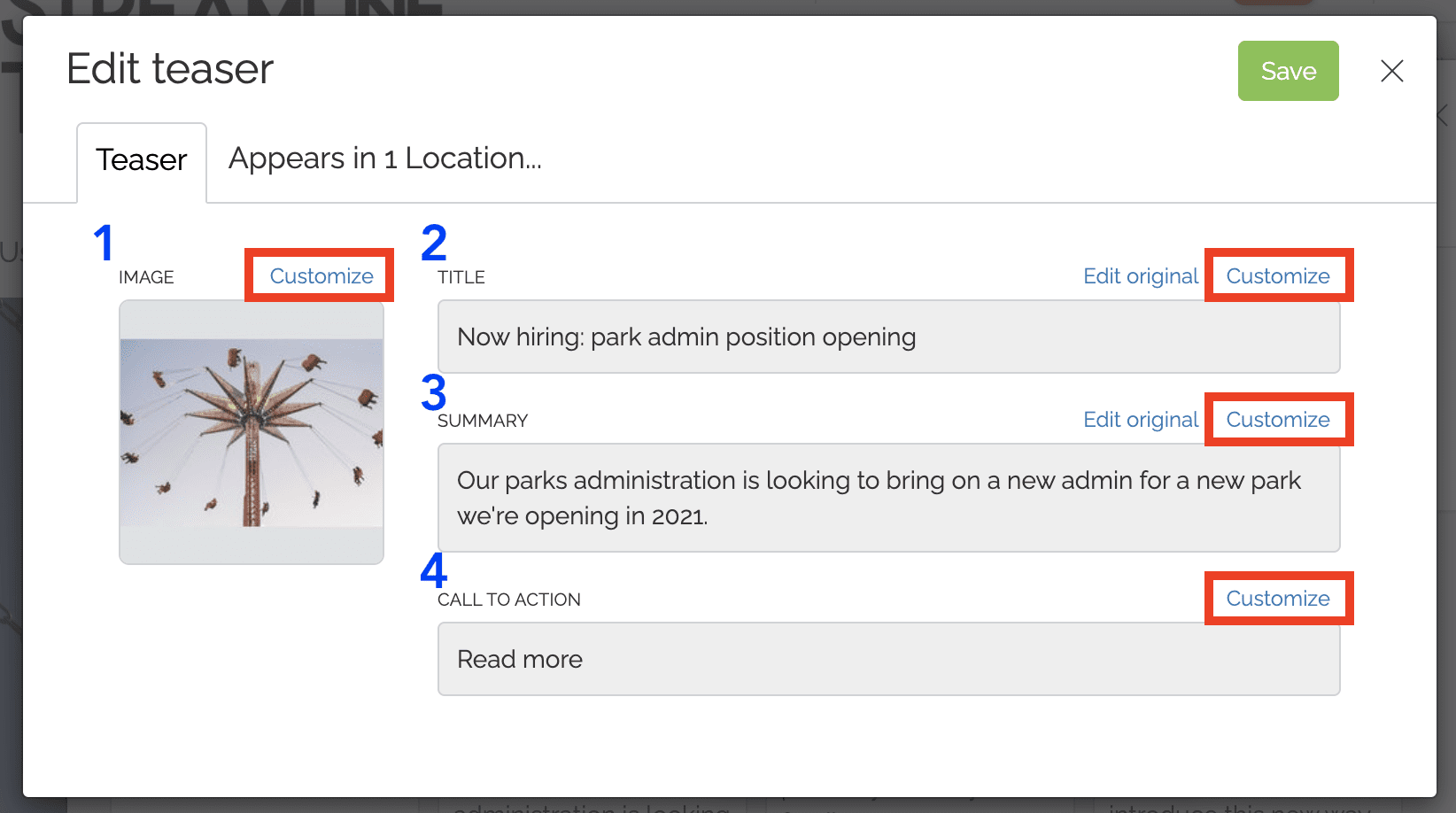 Note: Not all parts of a teaser will display in every type of teaser zone!
Go ahead and click on the Customize link for the Image on this teaser, which will bring up your Image library. Either select or upload a new image to your Image library to add that image to your teaser. Be sure to save this edit, as well as the page itself where the teaser is displayed, to fully save your changes!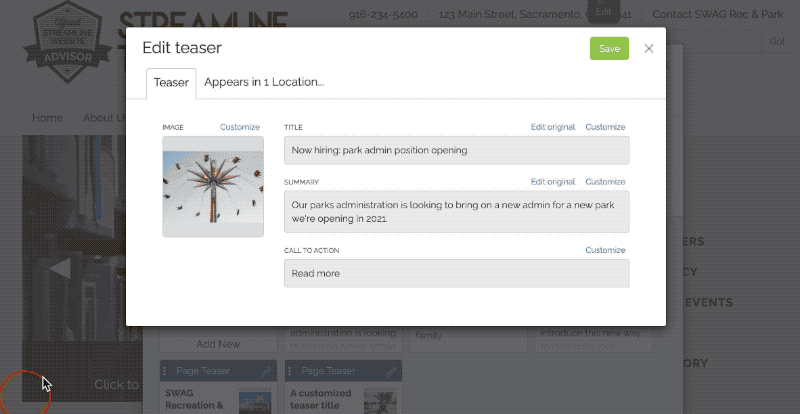 Customizing teasers in the Carousel
You can simply follow the steps outlined above to customize any part of a teaser in the Carousel zone, including the Title and Summary (which appear in teaser caption). The Call to Action is not visible in the Carousel zone.
For tips on how to fit images into your Carousel teasers, click here >
Customizing the Quicklinks bar
The Quicklinks bar is unique for two reasons: 1) like the Carousel, it's only found on your home page; and 2) unlike any other teaser zone, the teasers it displays are relatively small and only show an image and a title. Because the image space is so small, these teasers look best with smaller and simpler icons vs. normal images and photos.
Here is an example of what we mean.
Quicklinks with icons:

Quicklinks with photos:

Quicklinks are designed to display an icon and the title of the teaser only. You'll have to customize these teasers to add an icon; you can find a large database of freely usable icons here >
Customizing the "Below Main Content" teasers
Customizing these teasers is no different functionally from customizing any other teasers, but these will display all four parts of a teaser when saved: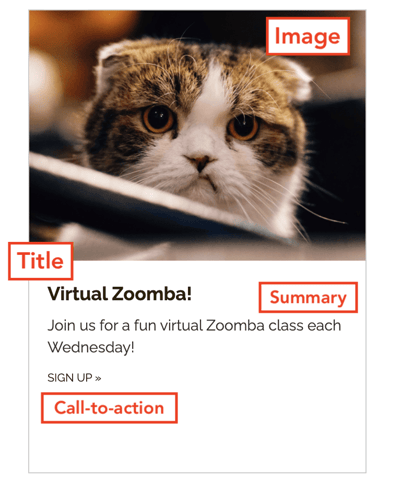 Why can't I edit the meetings?
This teaser zone is not editable from the home page! This area is a direct output of your Meetings tab, which you can learn more about here >